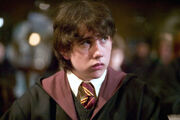 Neville Longbottom was a pure-blood wizard who began school at Hogwarts School of Witchcraft and Wizardry in 1991, and was sorted into Gryffindor house. His parents, Alice and Frank Longbottom, were well-respected Aurors and members of the first Order of the Phoenix. Shortly after Neville's birth, they were tortured to insanity by four Death Eaters with the Cruciatus Curse and placed in the Janus Thickey Ward at St Mungo's Hospital for Magical Maladies and Injuries, leaving Neville to be raised by his formidable grandmother, Augusta Longbottom.
Ad blocker interference detected!
Wikia is a free-to-use site that makes money from advertising. We have a modified experience for viewers using ad blockers

Wikia is not accessible if you've made further modifications. Remove the custom ad blocker rule(s) and the page will load as expected.