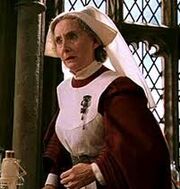 A Healer, is the same as a doctor. Healers use
Healing Spells
on their patients. Most work at
St. Mungo's Hospital for Magical Maladies and Injuries
. Some like
Poppy Pomfrey
work at
Hogwarts School of Witchcraft and Wizardry
. In order to become a healer or medi-wizard, you need to recive an
Exceeds Expectations
on the
Potions
,
Transfiguration
,
Herbology
,
Charms
and also
Defence Against the Dark Arts
. on their
N.E.W.T's
.
Harry: "Are they doctors?"
Ron: "Doctors? Those Muggle nutters that cut people up? Nah, they're Healers."
==Aperrance==
Healers wear Lime Green robe with a bone, and a wand crossing.
Ad blocker interference detected!
Wikia is a free-to-use site that makes money from advertising. We have a modified experience for viewers using ad blockers

Wikia is not accessible if you've made further modifications. Remove the custom ad blocker rule(s) and the page will load as expected.