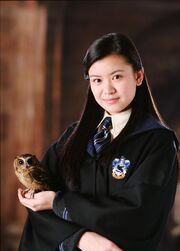 Cho Chang was a witch who attended Hogwarts School of Witchcraft and Wizardry from 1990 to 1997 and was sorted into Ravenclaw House. She was a Seeker for the Ravenclaw Quidditch team and a popular student. In Cho's fifth year, she began dating Cedric Diggory while he was a Champion in the Triwizard Tournament. Cedric became one of the first casualties of the Second Wizarding War, as he was murdered by Peter Pettigrew on the orders of Lord Voldemort in June of 1995. His death greatly upset Cho and made her determined to fight against the recently returned Dark Lord.In her sixth year, she joined Dumbledore's Army against her parents' wishes and began dating Harry Potter. However, Cho's best friend Marietta Edgecombe betrayed the D.A., and Cho and Harry's relationship fell apart. Cho remained loyal to her school and to the D.A., returning after she had graduated to participate in the Battle of Hogwarts. She survived the war and eventually married a Muggle.
Ad blocker interference detected!
Wikia is a free-to-use site that makes money from advertising. We have a modified experience for viewers using ad blockers

Wikia is not accessible if you've made further modifications. Remove the custom ad blocker rule(s) and the page will load as expected.